Energy Star & LEED Experience
ENERGY STAR is a U.S. Environmental Protection Agency (EPA) program that focuses on improving energy performance in buildings as a method of reducing greenhouse gas (GHG) emissions. ENERGY STAR is a technical assistance and recognition program that offers owners and managers of all buildings access to tools and resources at no cost to help them evaluate their energy performance and reduce energy use and GHG emissions. The Leadership in Energy and Environmental Design (LEED®) Green Building Rating System™ is a green building certification offered by the non-profit U.S. Green Building Council (USGBC) that looks at various aspects of green building and awards recognition to structures that meet certain standards. Users of the LEED process earn credits in several categories associated with green buildings. These differ by the type of LEED certification, but generally include: sustainable sites, water efficiency, energy & atmosphere, materials & resources, indoor environmental quality, and innovation.
Testing, adjusting, and balancing are the process of checking and adjusting the heating, ventilating and air conditioning (HVAC) systems and subsystems to perform at the design intent and operate at an optimum level.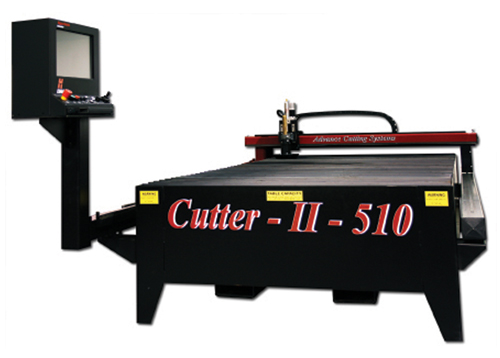 Plasma Table – Cutter II 510
The Cutter II cutting system was introduced to the market in 2006 as the latest model in the Advance Cutting Systems product line. The Cutter II is a state of the art Computer Numerically Controlled (CNC) Cutting System designed to use a plasma-cutting torch to cut out geometrical shapes and parametrically programmed HVAC (Duct Work) fittings. The fittings are programmed in the office using Profile Master PM-2000 Duct-CAM (Computer Aided Manufacturing) software; the parts are then nested on a sheet of metal to minimize material waste and are then cut out at high speed with the plasma torch.
Aeroseal Duct Sealing is a patented breakthrough technology that tackles leaks from the inside out. Aeroseal software allows the technician to accurately measure the duct leakage in residential homes and commercial buildings. The Aeroseal process puts escaping air under pressure and causes polymer particles to stick first to the edges of a leak, then to each other until the leak is closed.